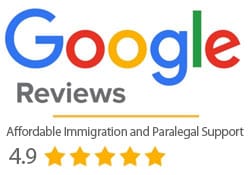 Client Testimonials

Complete professional service! All I hear and read in the news is about how long the immigration process is in Canada. But Charlene and her team at AIPS completed our sponsorship for my wife's permanent residency in record time!!! This is obviously due to their attention to detail and utmost professionalism. Thank you AIPS! I want to recommend Charlene to anyone looking for help in the daunting process involved in an immigration application. Well done!!
– Tim

We consulted Charlene for our Spouse Open Work Permit. She and Veruska guided us through the entire procedure gracefully with professionalism. The best thing about them is they reach out to us, whenever there is a delay in uploading documents, biometrics or medical from our side. Such dedication to their job is worth commendable. Special thanks to Veruska who ensured all our documents get uploaded and submitted on time, when Charlene was unavailable. Thanks to their service, we got PPR within two months. Keep up the good work. I highly recommend AIPS for any immigration consultation.
– Vaishakh

Excellent service, they helped me with my son's permanent residence, they advised me properly. They have always been there to support me with accurate, detailed and timely information. They have always been on top of everything. I recommend them with my eyes closed. For me the best legal immigration service in Hamilton.
– Carolina
Hamilton Office

799 Cannon Street East
Hamilton, Ontario, L8L 2H3
P: (289) 389-0922
Fax: (289) 805-5500

Monday: 9:30AM – 4:30PM
Tuesday: 9:30AM – 4:30PM
Wednesday: 9:30AM – 4:30PM
Thursday: 9:30AM – 4:30PM
Friday: 9:30AM – 4:30PM

Drop Ins Welcome, Virtual Appointments Available
Toronto Office

55 Eglinton Ave East, Suite 601
Toronto, Ontario, M4P 1G8
P: (289) 389-0922
Fax: (289) 805-5500

Monday: 11:00AM – 7:00PM
Tuesday: 11:00AM – 7:00PM
Wednesday: 11:00AM – 7:00PM
Thursday: 11:00AM – 7:00PM
Friday: 11:00AM – 7:00PM